THE KITCHEN
One 1.5 or 2 Liter cook pot - stainless steel most common
Stove - MSR Whisperlite is one favorite
White gas - MSR says a 22 oz bottle will cook for 136 min. [[Your average boil time is 4 mins with the Whisperlite. Do your math, using number of cooking meals]]
Matches/lighter
Foil- substitute for potcover, saves weight.
Spices - salt, pepper, cumin, etc.
Spoon/Fork, cup/bowl
Can opener - a light camper's version
Water Purif. Tablets or Filter

GENERAL EQUIP. [o = optional]
tent [Sierra Designs Light Year],
sleeping bag, pad
backpack [o]
ground sheet
handlebar bag, panniers
headlamp flashlite
dog defense- I had no problems with dogs. They chase a few seconds and drop off. For the few that persist I yelled BAD DOG! No bites.
maps
copies of certain pages from a bike repair book
bear rope - Not for him, but to hang your food in the evening.
bungee cords
rearview mirror

TOOLS AND PARTS
chain tool
spare tire
chain lube
rags
spare cables
electrical tape
spokes
tubes - 2
patch kit
misc nuts and bolts
tire levers
allen wrenches
screwdrivers
wrench
spoke wrench
freewheel remover
schrader,presta adapter
zip ties

PERSONAL
alarm watch
phone card
camera [disposable]
stamps
insect repellant - VIP***
soap
mini-shampoo from drug store
comb
sunscreen - VIP ***
toothbrush/floss/paste
razor
book?
Wallet - medical card, visa, etc
spare glasses

CLOTHES
End-of-Day tennis shoes
helmet
rain jacket
2 shorts
3 poly shirts
3 pair socks
Underwear optional with bike shorts
1 warm longsleeve poly & pants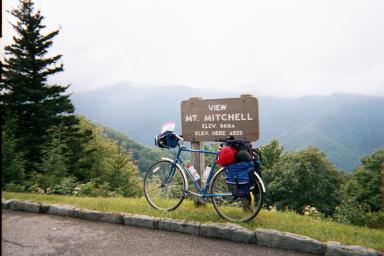 .